Below is the original forecast from ESD2 from May of 2020. It shows estimated numbers for years 2020 and beyond. Starting in 2024, ESD2 staff showed negative reserves. This original forecast was the primary reason ESD2 staff pushed our firefighters association to petition for a new Emergency Service District 17.

As the actual data came in, we corrected the forecast, updating actual revenues and expenditures from audited financials. We also removed the double counting of Station 6 expenses in 2022 and beyond. In 2020 actual and 2021 budget, the actual numbers shows huge revenue growth in sales taxes and property values. After these numbers are entered in , it shows positive reserves out to 2025, without the need for an additional taxes.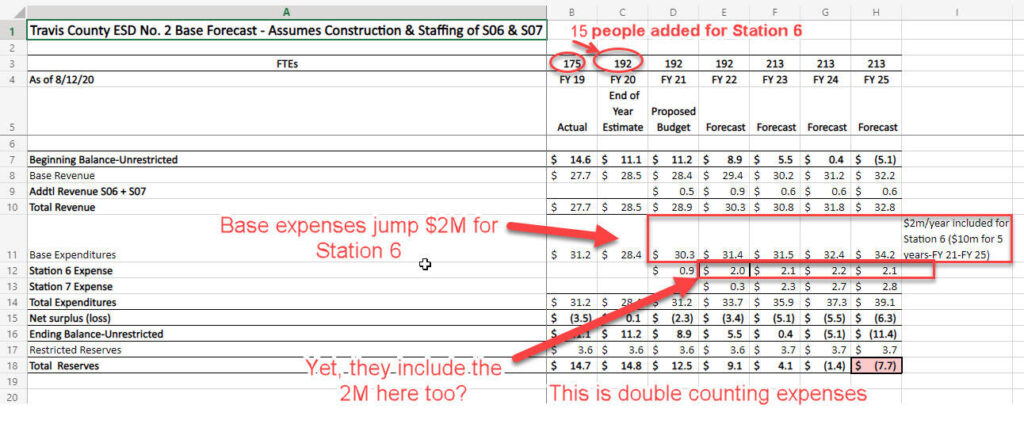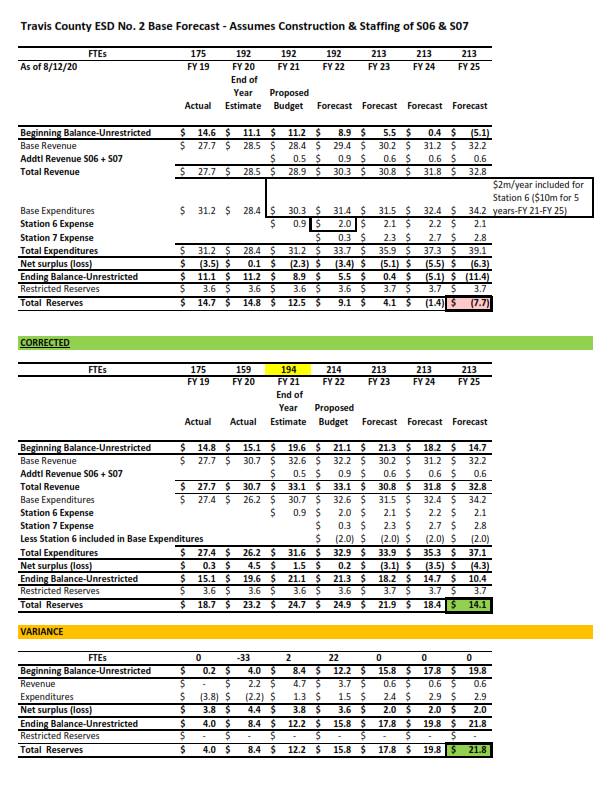 ESD Overlay is NOT Needed. Here's financial data that we summarized from the audited financial statements, budgets and forecasts from ESD 2.
Noted that 159 employees were paid on the September 2020 payroll compared to 192 employees that they have been publishing as the FTE count for 2020. FTE should be an average of all the months so it could differ from 159 for the year. Note: 15 FTEs were budgeted and UNFILLED for Station 6 and that leaves 18 other vacancies.
Could service be improved by filling the 18 vacancies for the existing 5 stations???

If there is an ongoing vacancy rate, then that should be applied to the annual budgeted salaries rather than fully budgeting as if the vacancy rate was 0%. It inflates costs and the property tax rate needed.

We received the Forecast in excel (updated 11/5/20) (see attached with my notes):

FY 2020 ending net assets is $2.6m lower in the forecast than their internal Financial Statements (see 9/30/20 unaudited in the Open Records request document we received).
ESD mysteriously removed the $3.7m in restricted net assets in FY 2024 & 2025, thereby understating net assets with the error in their roll forward.
These corrections result in an additional $6.9m added to the ending net assets as of FY 2025, showing that they are still financially secure without needing an overlay.
It appears that they have been publicizing the "Worse Case" scenario to the public. While the Best Case Scenario clearly demonstrates that there could be ample resources to operate without needing an overlay. Their "Middle Scenario" is still projecting revenue increases less than 3.5%. An estimate of 4-5% would seem more reasonable for a Middle Scenario.
No details are provided for the estimates for Capital Outlay or Debt Service so I have asked for those. (Specifically, what is included in the $4.8m in FY 2025 when that doesn't appear to include any buildings)
Email to Travis County Commissioners: We greatly value the ESD services and men and women who serve our community everyday. However, we oppose creating an overlay ESD district to separate fire and EMS services and to double our taxes and URGE you to deny the petition. First of all, the ESD commissioners are not elected by the voters and are not held accountable to the citizens that they tax. Having two separate appointed commissions could result in duplicate infrastructure and inefficiencies. Overlay is not the solution then or now! The ESD attempted an overlay in 2013 and was denied by both the Pflugerville City Council and the Travis County Commissioners. I performed extensive research on the financials and response time for ESD 2 and spoke at several meetings. The City Council performed their due diligence and determined that the ESD did not have the monetary need that they claimed and that an overlay district would not benefit the taxpayers. After the overlay district was denied, the ESD then held a sales tax election a few years later to increase their revenue to expand the EMS services provided. Since that election, annual sales tax revenues have increased by $5.1m in 2021, which is a 67% increase. ESD has sufficient revenue and liquidity for projected growth and reasonable operations. Overall, the ESD's annual revenue has grown 177% since their last overlay district attempt in 2013 compared to the population growth of 34% and call volume of 65%. Their revenue increase has outpaced their call volume increase by 272%.The ESD's audited financial statements from 2017 – 2019 shows that they had a total of $8m in net surplus for those 3 years and they had $17m in cash/investments with a liquidity ratio of 3.29 at the end of 2019. Their unaudited financial statements for 2020 show an annual net surplus of $2.5m and $18m in cash/investments. This compares to $4m in cash/investments and liquidity ratio of 2.32 in 2013, which is an increase of 325% in cash, 42% increase in liquidity and $10.5m net surplus over the past 4 years. A basic financial review shows that ESD does have the funds for current and future operations and they have a healthy reserve and cash position. In 2019 alone, the actual net surplus was $3.9m higher than they budgeted and in 2020, the unaudited net surplus is $7m higher than budgeted. These examples show that their financial projections are not always accurate. This same documented situation of budgets varying greatly from actual has continually occurred in the years prior and subsequent to 2013 and they use their excel-created losses to garner fear and doomsday projections that have not come to fruition. Property tax revenue has increased an average of 14% and sales tax has increased an average of 19% each year since 2013, yet the ESD 5-year forecast submitted to the public includes revenue increases of .75% – 3.2%. This is vastly under-projecting revenue, especially given the level of new construction in the district, including the massive Amazon distribution center. It appears that out of several financial scenarios, ESD 2 is circulating the worse case scenario to the public, which is rarely the most realistic forecast. Aggressive capital outlay plan is causing the projected "losses" and incomplete/faulty assumptions have created incorrect forecast
ESD built Station 5 in 2020 after 20 years from opening Station 4 and yet they are planning an aggressive plan to open Station 6 and Station 7 (75% increase) in the next 2-3 years when the population is only projected to grow 2-3% per year in their budget documents.
They included 15 positions for Station 6 in the FY 2020 and FY 2021 budgets and noted that they remained vacant – this alone accounts for $2m+ in expenses or 10% of the operational expense budget that is overstated for those years.
The September 2020 payroll shows only 159 employees, yet they are disclosing that 192 FTE employees for actual FY 2020 financials (variance of 15 FTE for Station 6 and 18 other vacancies), and then projecting that same level of 192 FTE for maintaining 5 stations, which is a gross misstatement of fact.
In their 2nd scenario of opening station 6 & 7, they add in another projected $2m for Station 6 costs starting in FY 2022 plus the $2m+ of overstated salaries in the base cost so it appears they are including Station 6 salaries TWICE. This could possibly be a $10m error in their expenses over the 5-year projection, which would vastly change the financial outlook and would no longer support the financial rational for an overlay district. Perhaps fully hiring employees to fill all the vacant positions would improve service more than costly capital outlay?
The projected FY 2020 net surplus and ending fund balance are understated by $2.4m and $4.9m, respectively. They also removed $3.7m in cash reserves in the ending fund balance in FY 24 & 25 that appears to be an excel error. These combined have a major impact on the estimated ending balance in FY 25 by $8m+. That is a significant understatement and has a critical impact on the analysis of whether an overlay is needed.
The Petitioners have put up signs stating that ambulance services will be discontinued in 2021. I have found no written evidence that ESD has stated this nor do ESD 2's projections indicate that they won't have the funds through FY 2024. These unacceptable fear tactics should not be tolerated!
As you can see from the numbers alone between their actual financial position, increase in call volume and population, ESD #2 is very financially successful and stable and is not in need of property tax increases to fund their current operations. Management can make the decision to postpone opening 2 new stations for a few years each to allow the increased taxes over time to fund the additional debt service and capital outlay, thereby eliminating the need for an overlay. Travis County denying ambulance services to ESD residents We was surprised at the letter from 2 Travis County Commissioners that are pressuring the Pflugerville City Council to allow such an unwarranted and significant tax increase. It must be noted that ESD #2 received 2 ALS/ambulances from Austin Travis County EMS through 2017, funded by the County taxes paid by ESD #2 residents. However, those 2 ambulances were removed in 2017, thereby denying Pflugerville/ESD#2 the critical EMS services that were needed and already paid. (Based on population growth, we should now be provided with at least 3 ambulances) This is unconscionable!! ESD #2 is in the current need of additional ambulances due to the failure of the County to provide the taxpayers with equal access to services as other County residents. The County needs to do the right thing and give us back our ambulances!!